Single Trip
Discounted Single Trip*
1-Day Pass
10-Trip Card
30-Day Pass
30-Day Discounted Pass*
Children 6 & under
Local Routes
Hanford, Armona, & Lemoore 
$1.25
$0.60
$4.00
$10.00
$50.00
$40.00
Free
Out-of-Town Routes
Avenal, Corcoran, Fresno, Laton & Visalia
$1.75
$0.85
$5.50
$14.00
$60.00
$50.00
Free
* Must have KART-issued ID card or Medicare card to receive discounted fare. 
| | Single Trip | Premium Single Trip* | Companions and All Children | Personal Care Assistant (PCA) | 10-Trip Card |
| --- | --- | --- | --- | --- | --- |
| Paratransit | $2.50 | $5.00 | $2.50 | Free | $25.00 |
*The Premium Fare rate is for Paratransit qualified individuals who live outside of the 3/4 mile service area, but are no further than 1 1/2 miles from the service area.
Fare Rules and Policies
Board the bus with the exact fare only; NO change will be given.
Children (age 6 & under) may ride free with an adult. Passengers under the age of 12 must be accompanied by a parent or guardian.
Discounted fare
is available to individuals with a KART-issued ID card and Medicare cardholders with a valid picture ID. You must show the driver a current KART-issued ID card or Medicare card with a picture ID to receive discounts. If you do not have a picture ID with your Medicare card, you will not receive the discounted fare. To see if you qualify for the discounted fares program, contact the Administration Office. The program is available to Seniors 65+, Medicare cardholders, Persons with qualifying disabilities, Active Duty Military and Veterans. Call 559-852-2717 for more details. Click here for Discount Card Application
REDUCED FARE APPLICATION ENGLISH
REDUCED FARE APPLICATION SPANISH.
Students can present their valid school-issued ID card when purchasing a bus pass and receive a $10.00 discount on one 30-day bus pass each month. The student must be present to purchase the discounted pass.
All bus pass sales are FINAL! No exchanges, refunds, or replacement cards will be issued. KART is not responsible for lost, stolen, or damaged cards.
If your KART issued ID card is lost, stolen, or damaged you can get a replacement ID Card for a $3.00 fee.
Where to purchase a Bus Pass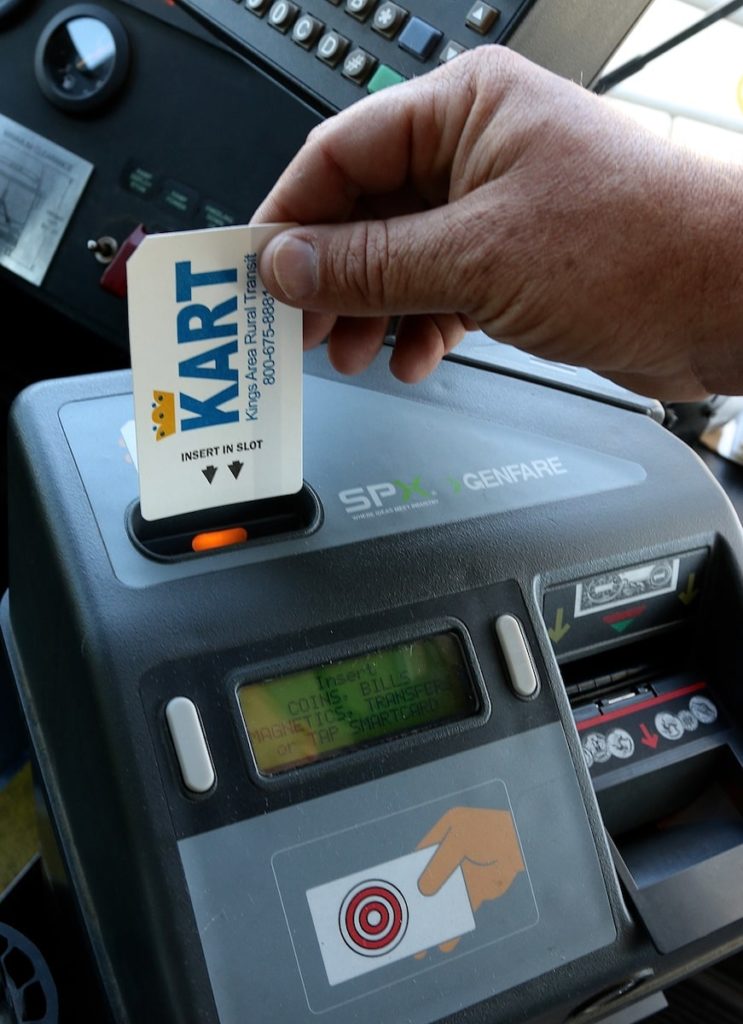 KART Transit Center
504 W. 7th St. Hanford, CA 93230
Monday – Friday: 7:00 AM – 7:00 PM
Saturday: 9:00 AM – 2:00 PM
KART Administration Office
610 W. 7th St. Hanford, CA 93230
Monday – Friday: 9:00 AM – 5:00 PM
Lemoore Finance Dept.-Closed until Jan.18th. to the public
711 W. Cinnamon Dr. Lemoore, CA 93245
Monday – Friday: 9:00 AM – 5:00 PM
KART Bus Passes Form Request is ONLY for Agencies (Passengers can purchase in the listed above addresses)