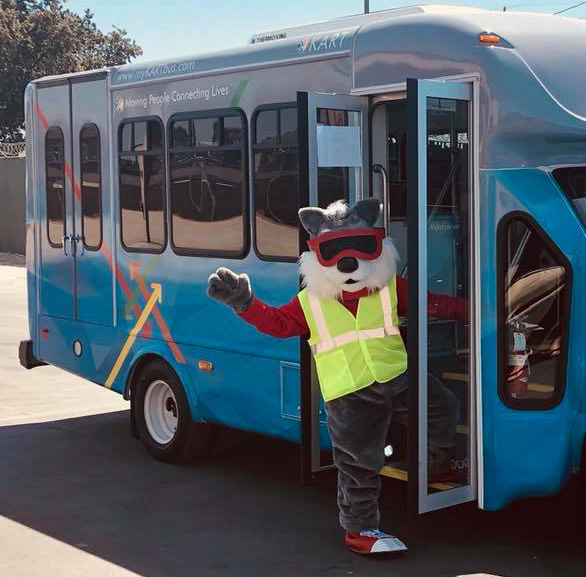 The KART Flex Route is similar to the fixed route; it is designed to pick a passenger up or drop them off at a designated KART bus stop only. The bus will arrive directly at the requested bus stop versus driving the entire route reducing the ride time for the user.
All trips on the Flex Route will require the user to schedule a reservation for a pickup. Reservations can be made up to 7 days in advance, but need to be made at least 30 minutes prior, reservations must be made by 9:00 pm. The Flex Route will stop picking riders up at 9:30 pm.
This service will provide faster, more convenient and more reliable service than current routes.
KART buses are modern, comfortable, and ADA accessible.
The service will provide a stop to stop service.
If you are not aware of the nearest flex stop, please contact dispatch for further instruction.
How to Request a Ride
Book directly at flex.kartbus.org
Call Dispatch at (559) 584-0101.
Make it with the Driver before boarding the bus.
Download the app on your mobile device. See below for details.
We encourage all riders to download the app.
Check out the KART Bus rider help center.
https://karthelp.pantonium.com
Download the App
It will ask you for your password once you have downloaded the app to gain access, the password is:    kart
General Information
Please have exact fare; no change will be given at the time of travel.
Reservations can be taken in advance.
Unfortunately, we cannot accommodate any bicycles at this time on the flex route.
The cost for the Flex route is $1.25. If you are transferring to the Flex Route from a fixed route to complete your trip, you may use your transfer ticket.