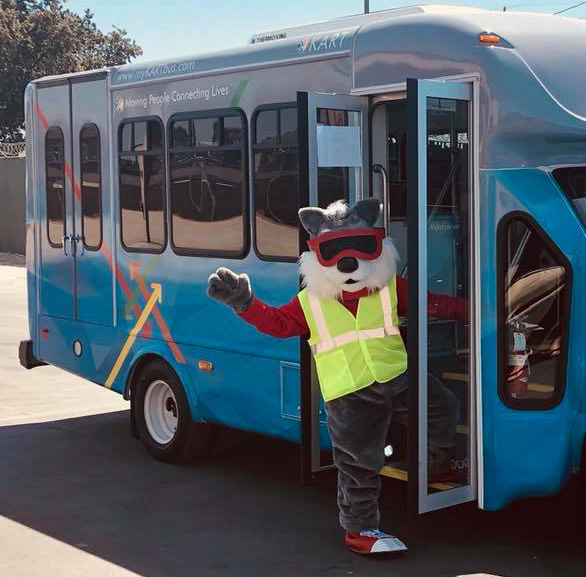 The KART Flex Route is similar to our fixed routes; it is designed to pick a passenger up or drop them off at a designated KART bus stop only. The bus will arrive directly at the requested bus stop versus driving the entire route reducing the ride time for the user.
Kings Area Rural Transit (KART) will be implementing a new pilot Flex Route to replace routes 30 and 31 effective November 1, 2018.
All trips on the Flex Route will require the user to schedule a reservation for a pickup. Reservations can be made up to 7 days in advance, but need to be made at least 30 minutes prior.
This service will provide faster, more convenient and more reliable service than current routes.
KART buses are modern, comfortable, and ADA accessible.
The service will provide a stop to stop service.
If you are not aware of the nearest flex stop, please contact dispatch for further instruction.
Four ways to Request a Ride
1. Download the Microtransit app from the Google Play or Apple store.
2. Book directly at ondemand.transloc.com
3. Call Dispatch at (559) 584-0101
4. Make it with the Driver before boarding the bus.
Using the Microtransit App
1. Create a user profile
2. Set Agency to Kings Area Rural Transit
3. Schedule a trip
General Information
Please have exact fare; no change will be given at time of travel.
Reservations can be taken in advance.
Unfortunately, we cannot accommodate any bicycles on the flex route.
Route 20 will not change.
The cost for the Flex route is $1.25. If you are transferring to the Flex Route from a fixed route to complete your trip, you may use your transfer ticket.
Download Microtransit now to book your Flex Route ride
How to book your on demand ride
Open the app and allow locations services
Tap the app icon to launch Microtransit and allow location services by tapping "share location" on the purple card displayed.
Log in or create an account
If this is your first time using the Microtransit app, you may need to create an account. If you've used a TranLoc app before and already have login details, enter them now. Otherwise, create a free account and make sure to enter your mobile phone number so you can receive text alerts when your ride is on the way.
Enter your pick-up & drop-off locations
The default origin, or pick-up, is your GPS location, however, you can search for other locations by tapping inside the "origin" field. Then select your destination, or drop-off location, by tapping inside the "destination" field. You must choose locations within your selected service's region in order to set up your on-demand ride.
Enter passenger count and identify wheelchair need
Tap the "+" or "-" icons to adjust your passenger count accordingly. If you need wheelchair access, make sure to check the box next to "wheelchair access", which is unselected by default.
Choose your pick-up time
Tap the clock icon field that reads "ASAP" to change your pick-up time. By default, ASAP is always selected, but you can schedule an in-advance ride by identifying the time and date you would like a ride.
Request your ride
When your ride settings are finished, tap the "request ride" at the bottom of the screen. This will submit your ride request to the agency. When your ride is approved, your ride card will change from "ride requested" to "driver en route" with an estimated pickup time and you will receive a text notification if you provided your mobile number during your account sign up.
Dismiss completed ride card
Tap the top right 3 dots icon to dismiss your ride card. This is also the button you will tap to cancel a ride that has not yet arrived.
Cancel a ride
In the event you need to cancel a ride before it arrives to pick you up, just tap the 3 dots icon in the upper right corner of your ride card. A "cancel ride" dialog box will pop up so you can cancel your ride at any time prior to pickup.